Veterans' Health Costs Could Top $900 Billion: Study
Thursday, September 30, 2010 8:15 AM
From: General (Ret) James David (who is mentioned on the cover of the third edition of former Republican Congressman Paul Findley's 'They Dare to Speak Out' book about the power/influence of the pro-Israel lobby on the US political system and media):
This is what George Bush predicted to be a fast and swift war that would be paid for with money from Iraq oil.  His three Israeli first advisors, Paul Wolfowitz, Richard Perle, and Douglas Feith,  were able to brainwash him into thinking Iraq was a threat to America when they knew it was instead a threat to Israel, a threat to the Jewish state as the only nuclear force in the Middle East.  And instead of using Israel's blood and money, they were able to convince our weak president to use America's blood and money.  This decision is one that is about to bankrupt America.
And this is $900 billion veteran's health cost is just the tip
of the iceberg in this 
The Three Trillion Dollar War – Wikipedia, the free encyclopedia
. 
And to think it could've all been prevented if we had a president and Congress with the nerve to tell Israel to stop stealing Palestinian land, stop the killing of innocent men, women, and especially children, stop building these illegal settlements, stop the building of illegal apartheid walls, stop the blockade of Gaza, stop the bombardment of Palestinian and Lebanese infrastructure, stop the enslavement of Palestinians from any travel, and movement, stop the uprooting of Palestinian orchards, stop the kidnapping and arrests of thousands of children, stop the assassinations of government leaders, stop the brutal and oppressive occupation, and return to the pre-1967 borders giving back Palestinians their land, and Syria its Golan Heights. 
Yes, this could've all been prevented if our President and Congress were not controlled by the Israeli lobby, AIPAC.  But as we know our politicians are not as concerned with America's security as they are with their political security, knowing that voting against Israel is the same as political suicide.  Seldom do politicians survive in office once they vote against Israel, voting to give the Jewish state their annual $3 billion in military arsenal to commit their crimes.  If it were not for these crimes we never would have experienced September 11, and we never would have the wars we have today.  And if we haven't already learned our lesson, the Israeli lobby is at it again with its sights on Iran. 
When will the American people wake up?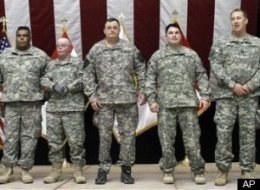 WASHINGTON — A new study estimates that health costs for Iraq and Afghanistan veterans could top $900 billion, and a lawmaker wants to set up a trust fund to make sure the bill will be paid.
Rep. Bob Filner, D-Ca., warned that the U.S. faces a huge bill for veterans' health care, and his concerns were buttressed by a recent study by Nobel Laureate Joseph Stiglitz of Columbia University and Linda Bilmes of Harvard University.
The two academics say the number of veterans, their injury rates and the cost of treating them have increased far more than expected in the last couple of years.
"If Americans want to vote for war, the Congress wants to vote for war, that's fine – but include the real costs" and budget for them, Filner told reporters by phone Wednesday. Filner is chairman of the House Veterans Affairs Committee, which has scheduled a hearing on the issue Thursday.
Stiglitz and Bilmes, also speaking by phone, on Wednesday estimated the cost of providing vets with lifetime medical costs and disability payments from the Veteran's Administration, as well as Social Security payments for the severely disabled, at between $589 billion and $934 billion, depending on the length and intensity of the Iraq and Afghan wars.
That is more than 30 percent higher than the Stiglitz and Bilmes estimated in the 2008 book "The Three Trillion Dollar War."
They said that about 600,000 of the more than 2.1 million service members who've been deployed since 2001 have already received treatment by the Department of Veterans Affairs.
The 600,000 figure is far higher than the numbers most often given publicly by defense officials.
The veterans agency did not immediately respond to requests for comment.
3 Responses to "Veterans' Health Costs Could Top $900 Billion: Study"